Conferences and Events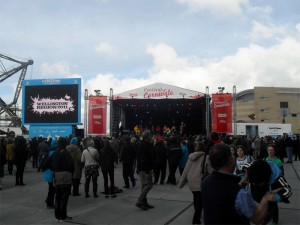 If you are planning a conference or an event then you know what a difference a well produced onscreen show can make.
I have put together scores of on screen shows for projection at conferences, awards ceremonies, product launches, media announcements.
During the 2011 Rugby World Cup I was commissioned by the Wellington City Council to produce the onscreen program for the Fanzone's Monster Screen. It was the most open brief I have ever worked with. This clip was created from images I sourced from the Wellington City Archives and Alexander Turnbull Library.
I was also assigned the responsibility of  WCC Community Engagement liaison for the Courtenay Place precinct during the Rugby World Cup festivities. There were massive road closures to notify all stakeholders of. The results from the Angus and Associates survey post the RWC event measured how successful my role was.

This RWC Highlights Clip was created (from wild footage the WCC had shot) for the Mayor's Media Release post the RWC.
Marketing, Web Design, Digital and Print Production